Enterprise Networks Is Your Business Game Changer
2013-07-17 04:35:28, by Agri
Drive IT Transformation and Create New Opportunity
Building on the Borderless Networks Architecture, Cisco advances the Cisco Open Network Environment (ONE) Enterprise Networks Architecture for automated provisioning and rapid deployment of network services and applications.
This architecture brings openness and programmability to enterprise networks through open APIs. It goes beyond software-defined networking (SDN) by offering a much wider- and larger-scale approach to network programmability.
Open APIs support a rich ecosystem of applications and services that can be created and rapidly provisioned. This allows enterprises to respond quickly and capture the new business opportunities made possible by the Internet of Everything (IoE).
The innovative Cisco ONE Enterprise Networks Architecture presents several breakthroughs in campus and branchtechnologies that deliver new levels of application awareness, performance, security, and operational simplicity. The figure illustrates how it works.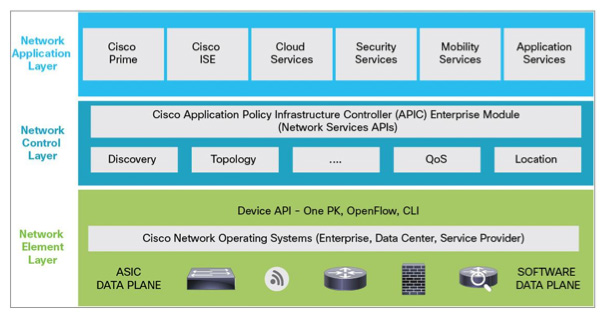 Network Application Layer
This layer uses open APIs so that anyone can develop applications and network services. Examples follow.
Application services deliver an optimal application experience with reduced bandwidth consumption, lower latency, and simplified management. You can extend the role of your router to help securely connect users to applications deployed anywhere, at scale.
Cloud services such as Cisco Cloud Connectors can deliver a better application experience for your private, hybrid, and public cloud deployments.
Mobility services bring more scale, efficiency, and agility to bring-your-own-device (BYOD) and IoE initiatives. Based on "One Policy, One Management, and One Network," Cisco Unified Access advances innovation.
Security services provide an all-in-one, enterprise policy-control platform with the Cisco Identity Services Engine (ISE). It helps to enforce compliance, enhance infrastructure security, and simplify operations.
Automated provisioning using Cisco management solutions can help IT departments simplify operations and more effectively deploy, manage, and troubleshoot the network and the services that it delivers.
Control Layer
The control layer:
Provisions network services consistently across all the network devices, instead of device by device
Creates a multilayer abstraction for the enterprise network, improving agility and accelerating service deployment
Optimizes end-to-end provisioning of services such as QoS and Performance Routing (PfR) throughout the enterprise network
Facilitates consistent deployment of network services and applications across wired and wireless networks and cloud deployments
Network Element Layer
The network elements layer provides the industry's broadest set of devices across wired and wireless networks with Cisco IOS Software and open APIs. These APIs are both industry-standard (OpenFlow) and Cisco extensions (Cisco One Platform Kit) that expose greater network information. They support a broad set of network services such as indoor location, application visibility and control (AVC), Medianet, and more.
This layer supports command-line interface as an API, so new and existing deployments can take advantage of new applications and services. The network elements layer also builds on our ongoing ASIC development and extends our hardware performance and deployment flexibility.